Who We Are
Aquarian Leather is run by the father and daughter team of Ferruccio and Jessica Sorichetti. They employ a small group of highly skilled people who help them make the luxury products Aquarian is known for in the North American leather business.
What We Do
At Aquarian Leather, we design and manufacture a wide range of bags and accessories for clients who all have the same fundamental demands. Our customers want luxurious products that are built to last. We design our items in a timeless style that doesn't fall out of fashion easily or quickly. Virtually everything we make is custom-designed for our clients.
Our Workshop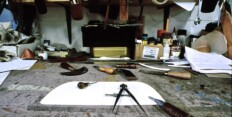 The workshop is the place where ideas are conceived, tools are picked up and pieces of leather are sewn together. Mass production is unheard of here. Much of the work is done by hand. In this workshop, some tools are still used that few people can even identify these days (never mind use).